FMPC001 Ford Mazda Automatic Pin-Code Reader (with 50 Tokens)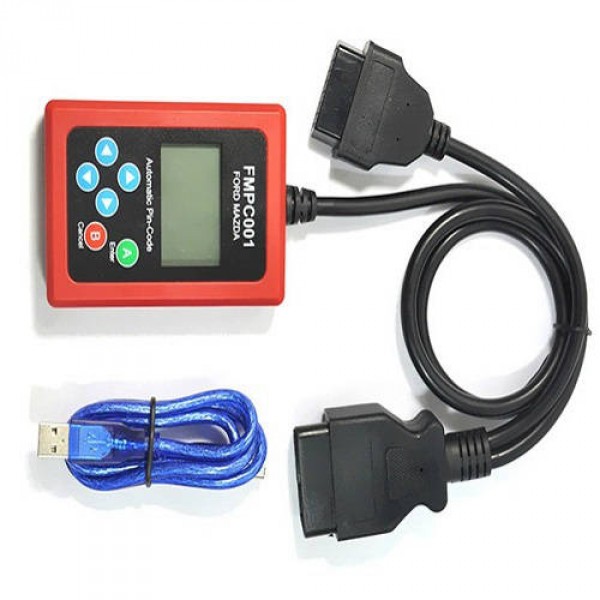 FMPC001 Ford Mazda Automatic Pin-Code Reader (with 50 Tokens)
FMPC001 Pin Code Reader V1.4 Highlights (July. 23th) (NEW) :
1. Ford new Modeo with color screen dash odometer correction (free)
2. Ford Escape with monochrome screen dash odometer correction (free)
3. Support Landrover Evoque odometer correction (free)
4. Support Range Rover sports odometer correction (free)
5. Support Land rover Freelander 2014 up odometer correction (free)
6. Change Land rover navigation system from English to Chinese (free)
FMPC001 Pin Code Reader V1.3 Highlights (May. 28th) :
1. upgrade to the latest Ford Mustang smart card matching funds directly (without reading a unique password in addition to the original instrument can be matched without connecting with other devices)
2. Upgrade S-MAX 2 meter mileage money recovery adjustment (error of 1 km)
3. upgrade edition Land Rover Discovery 4 Land Rover Jaguar mileage recover administrative adjustment (error of 1 km)
4. to upgrade the other, a monochrome screen Mondeo mileage meter calibration recovery (error of 1 km)
5. upgraded Land Rover Discovery 4 2010-2014 (L319) all lost (domestic equipment needs to be replaced BCM 4S is currently the only device does not require demolition)
6. Upgrade Range Rover Sport 2010-2013 (L320) all lost (domestic equipment needs to be replaced BCM 4S is currently the only device does not require demolition)
7. Upgrade Range Rover Sport 2014-2015 (L494) all lost (domestic equipment needs to be replaced BCM 4S is currently the only device does not require demolition)
8. to upgrade the administrative version of the Range Rover 2010-2012 (L322) all lost (domestic equipment needs to be replaced BCM 4S is currently the only device does not require demolition)
9. to upgrade the administrative version of the Range Rover 2013-2015 (L405) all lost (domestic equipment needs to be replaced BCM 4S is currently the only device does not require demolition)
10. Upgrade Rover Aurora 2012-2015 (L538) all lost (domestic equipment needs to be replaced BCM 4S is currently the only device does not require demolition)
11. Upgrading Jaguar XF 2013+ (X250) all lost (domestic equipment needs to be replaced BCM 4S is currently the only device does not require demolition)
12. Upgrade Jaguar XJ 2010-2013 (X351) all lost (domestic equipment needs to be replaced BCM 4S is currently the only device does not require demolition)
This upgrade will be removed from the previous number of restrictions, not deduction (except for the new Mondeo Ford ForestMustang newest vehicles)
Note:
Error in exactness of Odometer correction 1km
(1) Only our device is able to do correction, others not
(2) Our device precision is in 1km, others not
(3) Our device update is free, others not
Ford Mazda Automatical OBD Pin-Code Calculator Descriptions:
1. To program Ford Mazda keys, update new ECU modules, you must need the incode.
2. This calculator works together with devices which can read the Outcode, such as SKP-900...
Connect FMPC001 to vehicle OBD port, then it calculate the Incode automatically, transfer it to the machine to do the key matching, no need connection with PC.?????????
3. Support both old Ford Mazda, 6 digit to 4 digit, and some 2014 up newest models, such as:
Focus 3??? ?2010+;
Kuga??????? ?2014+;
Mondeo?? ?2010+;
( AV6N ?BV6N ?DV6N? BG9T ect...)
4. With 50 tokens built in.
5. One token deducted for each new model. No token deducted for old cars. You can update it or add tokens in the future.

Main Unit (L*W*H):? 10cm*7cm*2.5cm
Package Size (L*W*H): 18.5cm*10cm*6.5cm
Packing List:
1 pc * FMPC001
1 pc * USB Cable